Artist:
The Beatles
About:
The Beatles recorded together for a little over seven years. Between October 1962 and May 1970, they released thirteen albums and a number of tracks issued on standalone singles. The catalogue created in that short period has sold more than that of any other group in history and its commercial…
Listen to The Beatles's most popular song
To The Beatles - With Love, from India!
Artist reviewed by:
SongBlog
I was almost squealing with happiness when I came to know I'd be writing about The Beatles! There were over a hundred things I wanted to write about and my mind raced through the possibilities – whether it would be a review of my favorite rare Beatles song "Norwegian Wood", maybe a review of the historic concept album Sgt. Pepper's Lonely Hearts Club Band or probably it could be about how they have been the biggest influence in my songwriting. Because c'mon, it is The Beatles we are talking about and I am someone who even flaunts a Beatles tote bag as my fashion statement!
But as I was narrowing down the possibilities the bigger picture became clear to me- where all my ideas had actually been pointing to even before the realization dawned on me- that in fact The Beatles were such a huge personal influence to me because of their prominent connection to India and Indian music, that had made me realize for the first time that pop music can also be a bridge between cultures and such a wide range of genres from across the world. Therefore, I finally decided on focusing this article on The Beatles and their Indian influence.
The Beatles in India
It was back in 1968 when The Beatles had travelled to India on their historic meditation trip and this period is also known as the period they were at their creative best. The Fab Four are said to have written over 30 songs during this time, a lot of them inspired by their stay and a lot of them with clear influence from Indian Classical music. This was the time that marks their foray into raga rock. Some of these songs were inspired by their stay in India while some of them drew directly from Indian music concepts, ragas and had the use of Indian instruments.
Even though my personal favorites are still mostly from the British Invasion era and the young Beatlemania period, I inevitably respond to and recognize most of these songs and enjoy reading the stories behind them. It's kind of the same feeling when I am travelling in a foreign country and hear someone speaking in an Indian language, there is awe mixed with happiness and a sense of belonging that you feel in one instance and it the only way I can describe it the best.
Some notable hits were written during this time including, "Balckbird", "Dear Prudence", "Oh-Bla-Di Oh-Bla-Da", and "Julia". And there were also some rare songs with lyrics inspired by India like "Dehradun", "India India" and "The Rishikesh Song".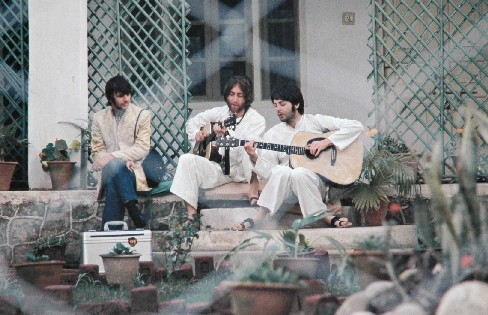 Indian Instruments
Whether it's "Across the Universe", "Within You, Without You" or even "Lucy in The Sky With Diamonds", there are strains of Indian instruments you cannot miss but hear. While "Norwegian Wood" is apparently the first pop song ever to have the use of sitar in its sound, all these other songs have the use of an array of Eastern instruments from Sitar, Tabla, Tanpura to even the Jal Tarang ( a set of metallic bowl tuned with water).
George Harrison and Ravi Shankar
And, when discussing The Beatles' India connect it is also hard to ignore the collaborations and camaraderie between George Harrison and Indian Classical Sitar player Ravi Shankar. The three iconic albums by Shankar- Shankar Family and Friends (1974), Ravi Shankar's Musical Festival from India( 1976) and Chants of India (1997), which marked his explorations of different forms of music ranging from jazz to rock, also featured Harrison as a guest artist. The two had met while Harrison was still a part of The Beatles but their partnership remained even through George's solo expeditions. George even received sitar lessons from him.
As you can tell by now, yes, I am a musician from India. And, the reason I chose to write this article was not only to introduce an interesting side of The Beatles that my Indian music accustomed ears invariably picks up on sometimes, but also as a note of gratitude towards The Fab Four for breaking boundaries and grounds in pop music because it all added up to the seamless world pop sound and made us all feel connected. Here's to the Beatles, from an Indian musician across a generation for the little feelings of belonging and the great lessons learnt from their journeys and experiments – with love!