Artist:
Tame Impala
About:
Tame Impala (Kevin Parker) has officially released his fourth studio album, The Slow Rush. Featuring the tracks Lost In Yesterday, Borderline & It Might Be Time. The Slow Rush was recorded between Los Angeles and Parker's studio in his hometown of Fremantle, Australia. The twelve tracks were…
Listen to Tame Impala's most popular song
Concert Review: Tame Impala @ Radio City Music Hall
Artist reviewed by:
SongBlog
Usually my favorite thing about going to concerts is looking around at a show and seeing a group of people enjoy the music as much as you do. There's an intangible connection to the people around you. Maybe it lies within the idea that, usually, enjoying music is an intimate experience, you have a relationship with your favorite artists and songs, and when you go to a concert and see everyone else's relationships manifest themselves with the same music, it's very emotional to say the least. Yet, after watching Tame Impala at Radio City Music Hall, I never felt this feeling of connection to the people around me. Yes, there were countless super-fans that knew the songs better than I did, but Tame Impala's impeccable live sound and show didn't let me take my eyes or ears off the actual band - I was honestly in awe. I was entrenched in the simplest format of the concert: by enjoying the music and showmanship itself, not the other bullshit about what song they would play next or if the people around me were 'feeling it' like I was. It didn't matter what song they played, every note was so flawless and blissfully tight, if you stripped away all the psychedelia surrounding their set-up, you would be left with incredibly connected and talented musicians making absurdly 'in-the-pocket' jams.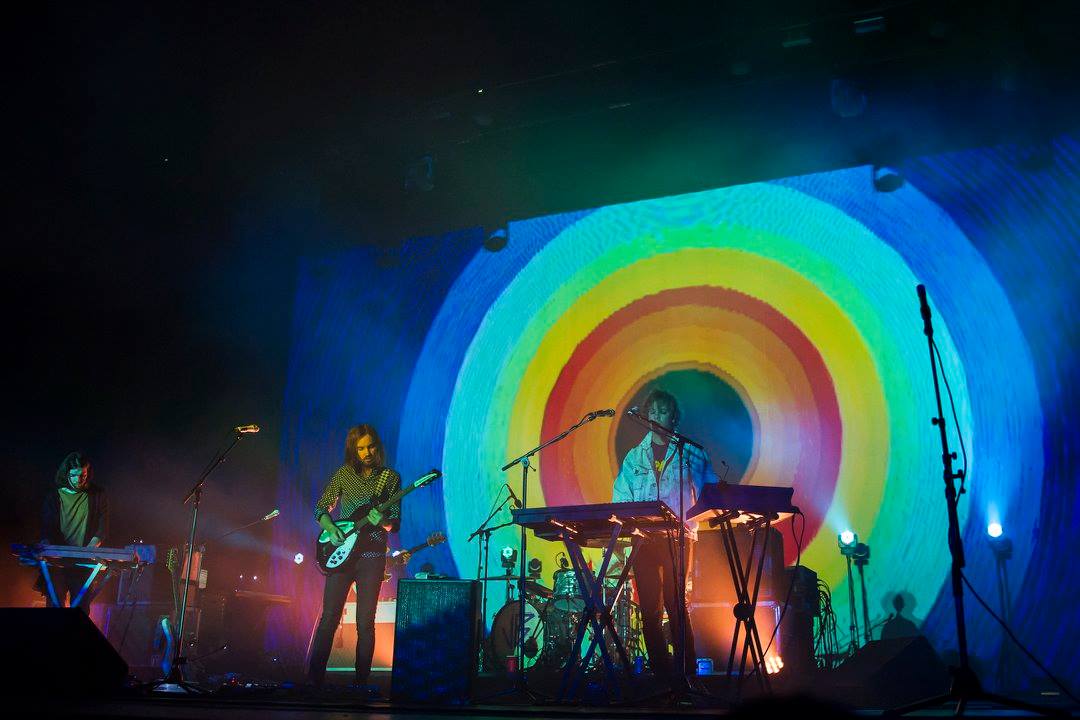 "They don't sound touched!", my girlfriend said, which is a good way to put it. Their live sound (undoubtedly propelled by the acoustic quality of Radio City) was almost as if someone was pressing 'play' on a track off Lonerism or Currents and running it through the sound system at the venue. The difference? The dynamics the band brought to the table. Parker's voice washes over you as the phased guitars and synths orbit around your whole body - all while the squashed, crunchy, often phased drums were pulsing and giving the groove to all of the rich harmonic content. Not to mention the jams the band had - 'tight' is an understatement! Amateurish noodling over a certain structure (basically what most indie band's "jams" are like these days) was completely out the door. Parker's perfectionism leads to almost predetermined jams and breaks within songs that are comparable (in essence rather than musical content) to a band like Tower of Power - all the hits were completely on point, and the band was completely in control of the sound, they manipulated their instrumentation around the songs they were playing to make them feel more real than I ever have experienced them. "Predetermined" is an important word when discussing Kevin Parker - I don't know why there is a negative connotation to planning when surrounding live performances. Often times it is frowned upon - especially by purest fans - when a performance is too predetermined, but I think Tame Impala dispels this negativity. The only way this show could have been so amazing was with Kevin Parker's perfectionism and pre-determinism; the light show matched perfectly up to the instruments which matched perfectly up to each other. It was just the right amount of perfection.
From the first delayed note Parker hits -his guitar connected to a stereo goniometer of sorts creating incredible visuals - I was lost in a new world. The grooves, sounds, melodies, breaks, all were such a treat for me and everyone around me - enjoying Tame Impala is a very solitary experience, because Parker's music not only overtakes your body as an experience (especially live) but also because it begs so much of you (after all, Solitude is Bliss), I have never been so connected to live music in my life. Not only was it a treat, but reassurance of Tame Impala's live prowess.
Check out the setlist below (provided by Setlist.fm):
'Cause I'm a Man Alter Ego Apocalypse Dreams Encore:Auto-Prog No. 5 (Drum Solo by Julien… )moreFeels Like We Only Go Backwards Nothing That Has Happened So Far Has Been Anything We Could Control