Album:
What Dreams Are Made Of
Artist:
R. City
Caribbean Hip Hop Recipe Finally Penned Down: Welcome R.City Empire
Album reviewed by:
SongBlog
Dear most dedicated Hip Hop fans, our holy brothers, hugely mistakenly downsided, finally topped up on the shiney side of the clouds! I am honnored and super exited to publicaly word express my self of this amazing news. But, for those who never had a pleasure of knowing about this magical multitalented Hip Hop duo, the story must be told from it`s roots.
Ok so, here we have a two widely special skilled brothers a mother named Theron and Timothy Thomas from Virgin Islands St. Thomas to just poke you with that magical connection. Two started surrounding themselves with art since little steps, back up dancing to a girl group. Then they stepped up to songwriting and producing which gave a milestone to their career. But noting was even slighty easy for R City boys. From switching names to changing places, hustilng on the streets and giving everything to music, life was pretty hard on them.
I can say with a 100% certainty that most of the people in simillar or have they had the oportunity to walk the same path or take the same destiny decisions as this guys, wouldn`t last at all. Drastic dedication, belif and faith regarding the vast of negative thoughts and mouths creeping around them, they managed to fight every fail, every fall and come out even stronger then before, taking that perfect knowlege out of malware lesson.
With the inspiration from other big artists and their parents supporting them, they moved places like Miami for a few years, then, unfortunatelly had to come back, work for a while just so they can jump again, never doubting in their success. Meeting and connecting with firends and a people who offered their knowlege of a PRs or managers, Theron and Timothy strove hard to keep a roof on their heads, attending to various talent shows and never finishing without being noticed and snatching prizes.
Not until the 2006 they got their first money worth song "The Rain" appearing on Akon`s "Konvicted" tripple-platinum album after which came the first contract with "Geffen Records" and Akon`s label "KonLive", which brought upon another unsuccessful outcome ending with them leaving only 8th mixtapes carring the PTFAO signature message as a reflection of their unsatifaction for not getting their debut album "Wake The Neighbors" published out. They even formed their own label "Rebelution Records", with which they tried to push their album "Free At Last", but yet again didn`t have much luck with.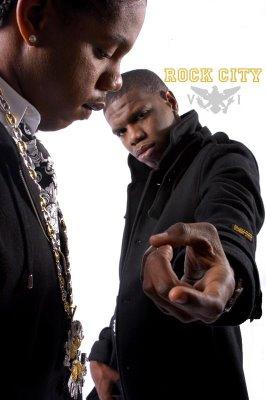 Did they sadly committed to their unfortunate fate calling? NO. They devoted to writing/producing and they once more showed they belong more than anyone else in the music business. Let me get your attention fully buzzed by naming some of their works: Rihanna-"Pour It Up" and "Man Down", Miley Cyrus "We Can`t Stop", Ciara "I`m Out", NIcki Minaj-"Only" and "The Night Is Still Young", oh yes also "When I grow Up" by The Pussycat Dolls and that summer hit "Replay" by Iyaz and so and so... Now judging by those creations, how can you not put this brothers on top of the tops.
And because they switched so many aliases while in search of a good tomorrow, until R City, and that is even short of Rock City, they published couple of projects as a Planet VI, (rang any of your bells yet?), and the first crew name they used was 2EKwip. They also had a numerous of artist names everyone for themself.
This year finally showed them mercey by connecting them with Dr. Luke, the extraordinary producer who put his wizardry on jams like Kelly Clarkson`s "Since You`ve Been Gone" and "I Kissed A Girl" by Katy Perry just to name a few and he helped the boys by signing them to his co-owned label "Kemosabe Records" pressing the debut album at last.
"What Dreams Are Made Of" is the title of the blood, sweat and tears spilled LP design. 14 songs telling the R Story in a mixed up juice of genres, but all perfectly matching to a line of an alternative Hip Hop or as the article title says by Theron`s notation a "Caribbean Hip Hop". You`ve probably already heard the "Locked Away" hit ft. Adam Levine rotating on the internet. Since my curiosity complimented me by introducing me to these guys, I am really happy to have known their works from the very beinings and now to having witnessed that it finally happened to them, and they made it big, I`m feeling very blessed and fulfilled.
The album tracks are easly to get sucked into, they are mostly self-explanitory, very down to earth tales, so I won`t waiste your time explaining them in typing, especially because I can smoothly get carried away this emotionally attached and the most definite reason why I won`t slip any more info about the album nor their life is the last 10 minute audio-biography made track. Thomas brothers opened up about every life detail they survived through this heavy weight battle, and beside excellent first class music, you get the full bowl of their soul`s texture.
As I put my last letters on this, I call you to join my joyful fever and stand up to the dreams come true fame of these two artists.